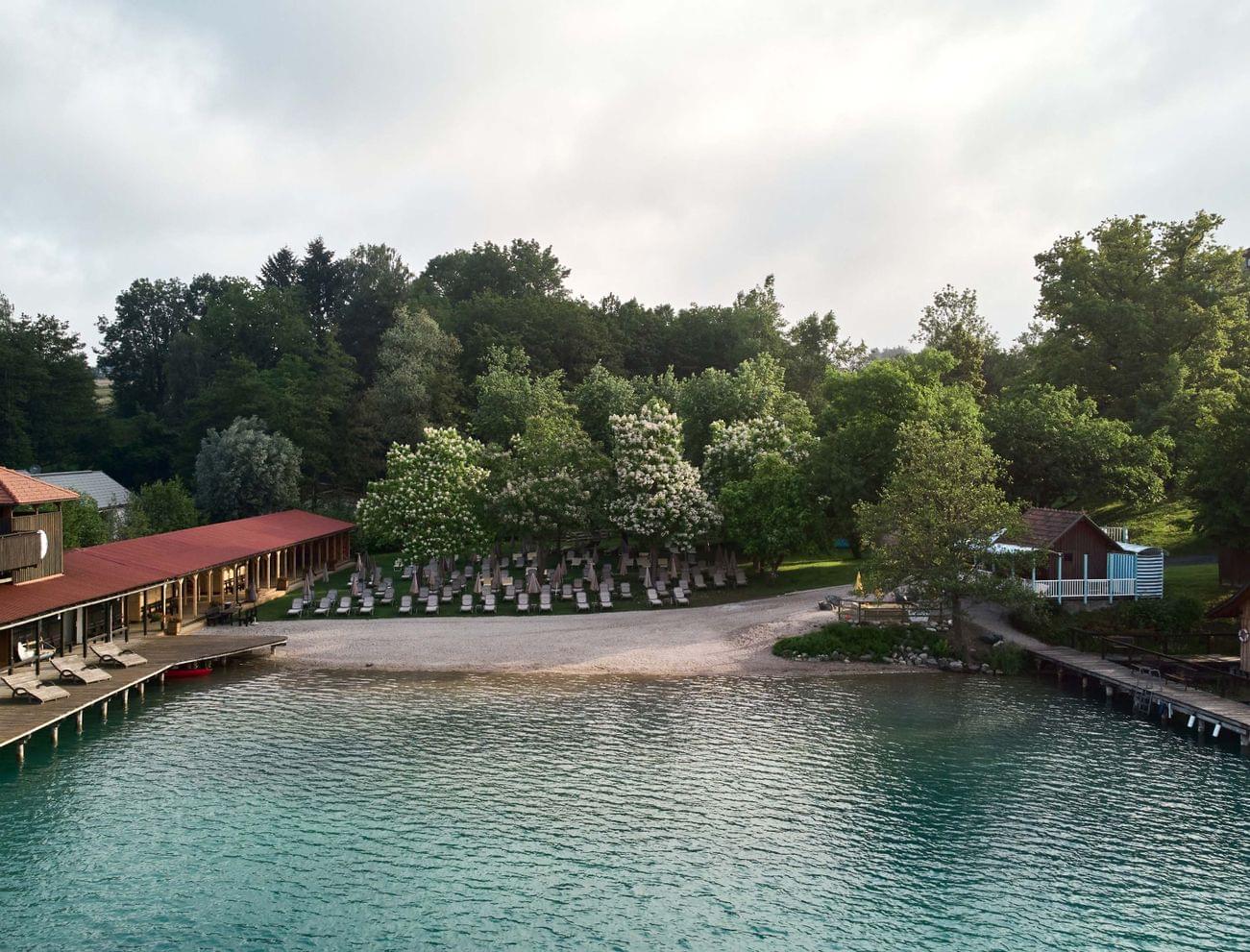 A world of emotions nurtured by an Alpine lake.
The Karnerhof private beach on Lake Faaker See.
Private beach. It sounds almost regal.
Out of a time when holidays were still called summer retreats, when time wasn't a scarce commodity - and a sense of spaciousness was part of the whole experience. A seaside resort of one's own. Along with 10 hectares of freedom. With plenty of time to take a break. To let body, mind and soul unwind. To recharge the batteries. At the Karnerhof, on Lake Faaker See. There's an abundance of everything here. Fresh air, turquoise blue and crystal-clear lake water. A sense of leisure and serenity. The view from the rooms and hotel terraces sweeps over the lake, the rocky-steep ridges of the Karawank mountains, the intense green of the forests. Arrive. Take a deep breath. And settle in to LAKE-SOUL.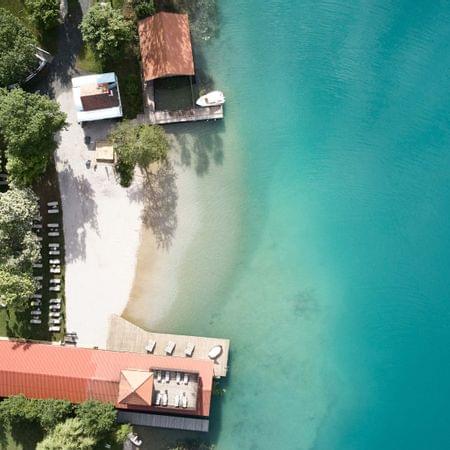 Yet LAKE-SOUL remains unchanging. Nurtured by an Alpine lake.
A large sunbathing lawn with parasols and comfortable loungers under the trees, a pebble beach for wading into the turquoise waters, where kids can play and adults can chill out. Next to it, the boathouse with the water lilies. Rowboats for romantic trips on or across the lake. Or the "Seerose," our modern electric boat with sun-lounging area and canopy. Then there's the old wooden bathhouse. With the lake sauna, a naturist sunbathing terrace on the roof - and the panorama over the lake and up to the Mittagskogel. For a little culinary treat between meals, there's the Lakeside Bistro, just like in the old days, with snacks, ice cream and drinks just a stone's throw away from the trendy and innovative LAKE-SOUL Spa. It's a small, almost out-of-time holiday world right on the lake.
The liquid stress-burner: a morning dip in the lake.
Pure relaxation first thing in the morning.
The birds show us how it's done: the moment the days get longer and the sun's rays get warmer, nature starts its eternal cycle of life once again. Little songbirds start to warble, fluttering around happily and taking a plunge in the lake every now and again.
Early birds join in and treat themselves to a morning plunge in the lake as soon as the sun rises. Because a refreshing dip in the natural water is good for our well-being and health.
Lake sauna at the Hotel Karnerhof.
A much-loved wellness experience at the Karnerhof: the lake sauna. Directly above the water, in the romantic boathouse. While you yourself remain unobserved, generous windows provide a view of the stunning lake landscape. Directly from the heat of the sauna, you take a few quick steps across the wooden floor to the ladder that drops into the lake. Then: dive in, take a few strokes. Tingling coolness and freshness.
The private beach at the Karnerhof.
300 metres of shoreline, a total of 4,000 m² of lakefront space
Bathing beach and sunbathing lawn, exclusively for our hotel guests
Reserved sun loungers and parasols
Lake sauna with Lake Faaker See as your plunge pool
Sun deck with naturist sunbathing area
Table tennis directly on the beach
Hotel-owned rowboats for free use
Children's playground and sandbox on the beach
Lake Bistro with snacks, ice cream and drinks
Beach massage in the boathouse directly on Lake Faaker See (in summer, depending on weather)
Hotel owned e-boat for up to five people (rental for a charge)